History of a Bigger BRIDGE
In 2017,  Dr. Alejandro Brice of the University of South Florida and Dr. Jacqueline Hinckley, then of Voices of Hope for Aphasia, were awarded a Eugene Washington Engagement Award from the Patient-Centered Outcome Research Institute.  In the first year of the project, we developed a series of peer-reviewed online trainings for people with aphasia, their families and friends, clinicians and researchers. People who completed the online training were invited to attend an in-person two-day conference in October, 2018 in Clearwater, Florida, USA. Over 100 people from around the US attended the event which culminated in the creation of 11 multi-stakeholder research teams. Listen or read the Executive Summary of the two-day meeting below.
Recognizing the need to extend lessons learned from the first project which ended in 2019, Project BRIDGE received a second Eugene Washington Engagement Award from the Patient Centered Outcome Research Institute which began in January 2020. The purpose of this second project is to leverage the experiences from the first project into a training pathway, tools, and resources that are available to a community of engaged stakeholders focused on research affecting people with communication disabilities.
Our national research incubator network is now recruiting Guides (Mentors) and Newcomers (trainees) who would like to learn more about how to create and sustain multi-stakeholder research teams. Read more about our national network here.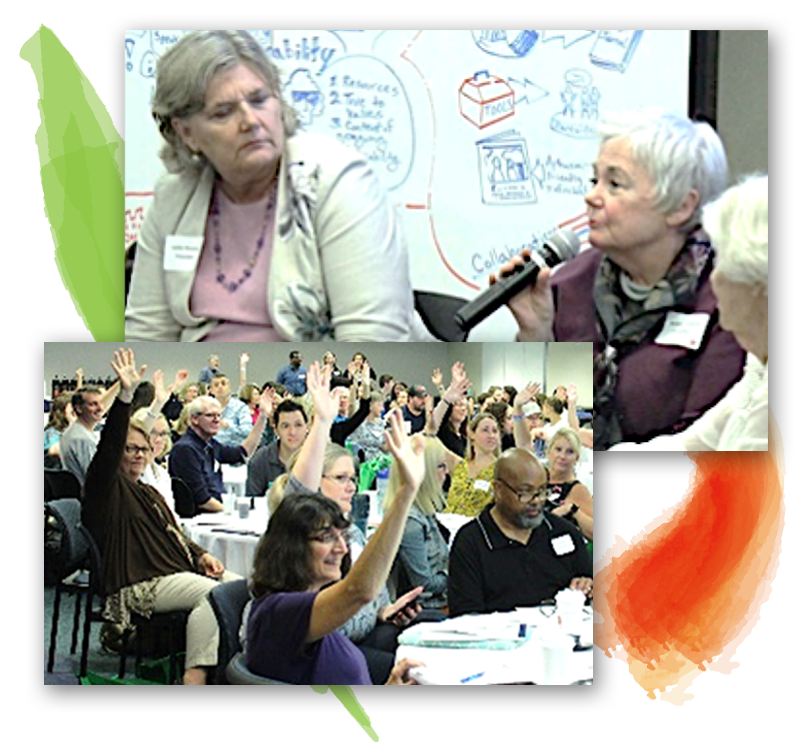 Below, you will find some experiences past participants shared about Project BRIDGE:
Important to determine an individualized approach to capturing the thoughts and feelings of the people with Aphasia that are participating in the research project.
Project BRIDGE opened my eyes to an innovative way of conducting research. I enjoyed working alongside stroke survivors, co-survivors, and professional colleagues to create a research project stemming from our combined interests and/or experience.
Project BRIDGE is the first experience I have seen where there is a true collaboration between academics directly involved in research and people living with aphasia. Everyone on the team has a unique contribution to the project.
I love research! In fact, I was working on several journal articles in my field when I had a stroke. I want to be a voice for all stroke survivors because I had Global Aphasia (now Fluent Aphasia). I couldn't express my thoughts verbally…