Based on past suggestions made from Project BRIDGE's advisory team, a research network has been created with 4 regional centers and a main hub. The hub of our network is located at Nova Southeastern University in Ft. Lauderdale, Florida. Our regional centers are located at:
University of Nevada in Reno,
Central Michigan University in Mt. Pleasant, MI,
University of Central Florida in Orlando, FL,
and the Adler Aphasia Center in Maywood, NJ.
Each regional center serves as a connection point to help recruit and train new research team members. Connect with the center closest to you today! Contact information is below.
You can find the location of each center below: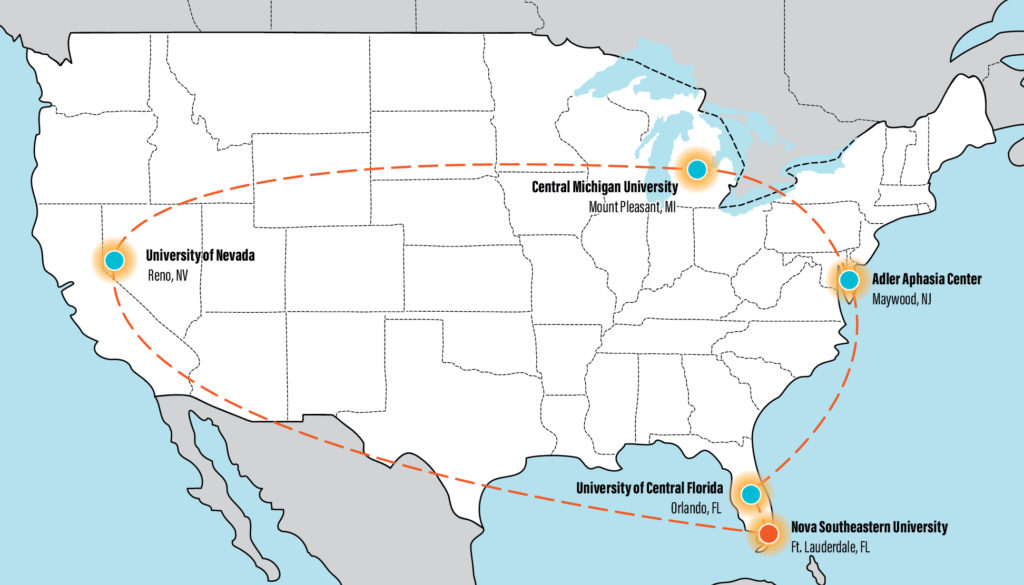 WEST
University of Nevada – Reno
Reno, Nevada
Tami Brancamp, Ph.D.
Coordinator
MIDWEST
Central Michigan University
Mount Pleasant, Michigan
Katie Strong, Ph.D.
Coordinator
NORTHEAST
Adler Aphasia Center
Maywood, New Jersey
Gretchen Szabo, M.S., CCC-SLP
Coordinator
SOUTHEAST
University of Central Florida
Orlando, Florida
Amy Engelhoven, Ph.D.
Lauren Bislick Wilson, Ph.D
Co-Coordinator